#108-19415-56th. Ave.
Surrey - Langley, B.C.
V3S 6K2
Ph: (604) 530-9160
Fax: (604) 530-9168


Jeep/Import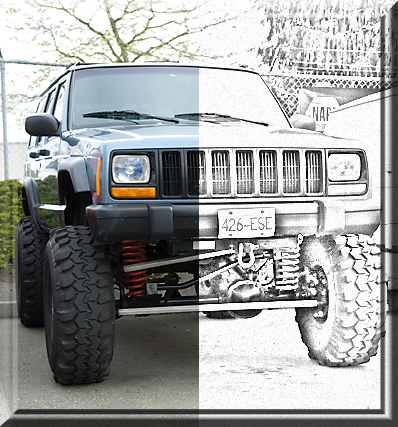 Jeff Baxter - technician @ Dale's Alignment & Brake

Truck: 1998 Jeep Cherokee - 10" lift

Modifications: 5 1/2" custom built control arm drop brackets, custom fabbed drop bracket for Rubicon track bar frame side, Rubicon upper & lower control arms, steel braided brake hoses, custom steering tube 1-1/8 od, Skyjacker 8" coils with 2" spacers, drop shackles with springs and blocks, 35X13.5 TSL Swampers on 15x10 AR rims, slip yoke Eliminator kit, 2-1/2" exhaust with 40 series Flowmaster muffler
---
Dale Trentini - owner of our shop

Truck: 2007 Tacoma TRD

Modifications: 3" level off kit, rear Firestone airbags, LT285/70R17 BFG All Terrain KO's
---
Mitch

Truck: 1989 YJ

Modifications: Atlas 2 transfer case 4.3:1 reduction, High Pinion D44 front diff, D60 rear (w/disk brakes), 38.5x11 Michelin XZL tread.
---
TBA

Truck: 2009 Tundra

Modifications:
---
Devan

Truck: 1993 Grand Cherokee

Modifications: 4.5" Rocky Road lift, 33" Mud King tires, front grill guard, American Racing rims